'In Control'
My Autobiography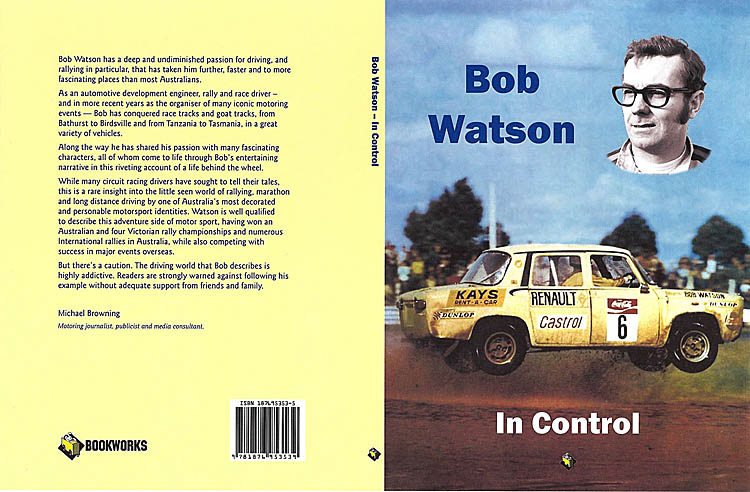 Rally driver, Automotive Engineer and four times Victorian Rally Champion Bob Watson has written a book on his life in the motor industry and motor sport. Titled 'In Control', the book is now available.
In Control covers Bob's life from his early days as an engineering student driving Austin Sevens, through his work as an engine and chassis development engineer at Holden. Bob's early time with the 'General' covers the era of the original Holden Dealer's Trials team, the oil cooled disc brake project, his role in the development of the GTS 327 Monaro for Bathurst, successful track racing at Sandown and Bathurst, and his controversial dismissal from Holden and subsequent appointment as Rally Competition Manager for Renault Australia.
Also featured is the highly successful era of rally and Rallycross victories in Renault and Peugeot cars that resulted in Watson and Renault winning National and State rally championships and the International BP Rally. Bob's later drives for the Nissan and Ford factories and the successful Gerry Ball Rally team are also fully covered.
His experiences in three Round Australia Trials, the East African Safari and the 1977 London to Sydney Marathon are told, together with chapters on classic events, cars he has driven, and characters he has met in motor sport. There are descriptions of organising the 1993 London to Sydney Marathon, the 1995 Mobil 1 Trial and other less well known but equally challenging projects. Chapters on the philosophy of rallying and rally driving techniques are also included.
This is a wide ranging book, written by someone who has been involved in almost every facet of motor sport. Bob's successes include winning the Australian Rally Championship, a record four Victorian Rally Championships, wins in the BP Rally of South Eastern Australia, the Alpine Rally, the inaugural Don Capasco Rally, and third behind two leading International drivers in the Southern Cross Rally. Bob's track successes include winning the 1968 Sandown Three Hour race (with Tony Roberts) – giving Holden its first major race victory for the then-new Monaro – and third at Bathurst in the same privately owned GTS 327 Monaro. He also designed the braking system for the HQ Holden, and was chassis development engineer for the first Australian AWD car, the Holden Adventra.